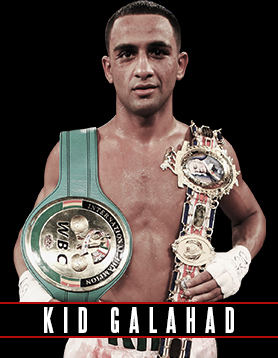 Fighter details
Name:
Kid Galahad
Date of Birth:
03/03/1990
Height:
5'6"
Style:
Orthodox
Birthplace:
Qatar
Home Town:
Sheffield
County
Yorkshire
Country:
UK
Division:
Super Bantamweight
Trainer
Dominic Ingle
A product of Sheffield's famous Wincobank gym, Kid Galahad – real name Abdul Barry Awad – found his way into the arms of coach Brendan Ingle following a recommendation from 'Prince' Naseem Hamed, the former featherweight champion of the world. Barry and Naz had spoken at a Sheffield mosque and the starry-eyed youngster, only fifteen at the time, made it quite clear what he wanted from life. 'I want to be a world champion like you, Naz,' he said. With that, Hamed let him into a little secret. He told Barry that if he wanted to be a world champion like him he must seek out the help and guidance of Brendan Ingle, his old trainer and mentor.
So he did. Shortly after, Barry turned up on the doorstep of the Wincobank gym, met Ingle and even allowed the legendary Irishman to gift him a ring moniker – Kid Galahad, the name of his favourite Elvis Presley film. There was no looking back for the boy born in Doha, Qatar.
Following a short but successful amateur career, Kid Galahad turned professional in September 2009, outscoring Delroy Spencer over four rounds on his debut. He then strung together ten consecutive wins before taking a step-up in class against Jason Booth in a WBC International super-bantamweight title fight. Booth was the one with the experience. He'd fought at a fringe world-class level before. He'd seen everything. Yet Galahad, no respecter of reputations, outboxed Booth for most of the twelve rounds they spent together. A masterful performance from the young apprentice.
In May 2012, Galahad defended his newly-acquired WBC trinket with a dominant ninth-round stoppage of the game but outclassed Josh Wale in Sheffield. Wale, cut around both eyes, was unable to answer the bell for round ten.
He wasn't the only domestic opponent outclassed and stopped in the final chapters of a title fight. Liverpool's Jazza Dickens also suffered the same fate in September 2013, when he tried to take the action to Galahad with aggression and intensity, only to be gradually broken up and stopped in the tenth round of a thriller. Patience proved a virtue for Galahad that night and he lifted the British super-bantamweight title in the process.
Titles continued to land at his feet in 2014. First he dominated Sergio Prado over twelve one-sided rounds to lift the European super-bantamweight crown in March, and then he crushed Fred Mundraby inside four rounds to become Commonwealth champion in May. It was all plain sailing for Galahad. It never seemed in doubt. One by one, he was picking off contenders and picking up titles.
His most recent performance, an IBF Youth title win against the unbeaten and dangerous Adeilson Dos Santos, might be his best work to date. A risk going in, Galahad boxed with supreme confidence and focused and produced a faultless clinic over twelve rounds, even dropping the Brazilian with picture-perfect knockdowns in rounds one and ten.
It acted as a warning to the rest of the world super-bantamweight division. The 24-year-old Galahad is no longer a Kid. He's on his way to becoming the best in the world.
Follow Kid Galahad